Before you complain about school, remember that some people can't even get an education.
Before you complain about getting fat, remember that some people don't even have food.
Before you complain about your job, remember that some people don't even have money.
Before you complain about your house or cleaning the house, remember that some people don't even have any shelter.
Before you complain about all these things on social media using your smartphones, without any consideration of how blessed you are, just be thankful for a minute!
Being thankful is one of the simplest and yet most powerful habits any one can cultivate. By doing this you can condition your mind to look good in everything around you. Soon enough, you'll unconsciously begin to see the bright side of things and feel better about life. You can't feel bad if you're feeling thankful. Showing gratitude, most people struggle with it. It's much easier to focus on burdens than on gifts; to devote your attention to the things you don't have rather than the things you do have.
The more you count your blessings, the more blessing you'll have to count.

Remember, there might be many things in your world that are going wrong. Yet there are also many things that are going right.
I'm not saying your problem doesn't exist, it does. But try instead to focus your energy on solutions to those problems. the illusion of fear is the only limitation we have. . when you feel thankful, grateful and content in your own life and in your own experiences than you will find that want less. you'll find that you're actually more satisfied with where you are and with what you already have in life.
We make life all about a future that exists only in our imagination and completely miss what's happening in front of us.

You can do better !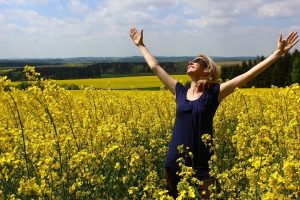 DISCLAIMER: This is my personal blog, the views and opinions expressed here represent my own and not those of people or organization that I may or may not be related with unless stated explicitly. The content is copyrighted solely to the caretaker of this website. Do not copy. Also thoughts and opinions change from time to time as I come to learn more and develop my understanding about the things and issues that I am blogging about. This blog just provides a snapshot of the knowledge, views, and opinions that I hold at a particular point of time and these might most probably change over a period of time. I reserve the right to evolve my knowledge, thoughts, and viewpoints over time and to change them without assigning any reason. Comments are welcome. However, note that, tasteless and insulting comments may be deleted. Any personal remarks and attacks may be deleted. The same holds true for off-topic comments. Any comments that reek of link spam or marketing messages WILL be deleted.
I am not responsible for the content in comments other than those made by me, or in blogs or other online content that I may link to.