HUNGER EFFECTS THE WEAKEST
In traditional societies … within groups childrens are particularly badly affected. They suffer heavily because of structural inequalities.
Women have little access to education or opportunities to earn a livelihood. At the same time, they frequently struggle with the double burden of farm work and raising children. As a result, many children do not receive enough care or food. A lack of knowledge about nutrition and hygiene issues increases this risk.
Hunger is strongest in rural areas.
Invest in people

Empowerment for change
Causes behind hunger :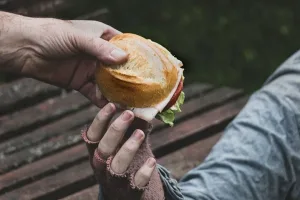 Lack of access to food- Most major food and nutrition crises do not occur because of a lack of food, but rather because people are too poor to obtain enough food. Non-availability of food in markets, difficult access to markets due to lack of transportation, and insufficient financial resources are all factors contributing to the food insecurity of the most vulnerable populations.
Poverty- Poverty alone does not lead to malnutrition, but it seriously affects the availability of adequate amounts of nutritious food for the most vulnerable populations. Over 90 percent of malnourished people live in developing countries.
Conflicts – Conflicts have a direct impact on food security, drastically compromising access to food. Often forced to flee as violence escalates, people uprooted by conflict lose access to their farms and businesses, or other means of local food production and markets. Abandoned fields and farms no longer provide food to broader distribution circuits.
Lack of safe drinking water – Water is synonymous with life. Lack of potable water, poor sanitation, and dangerous hygiene practices increase vulnerability to infectious and water-borne diseases, which are direct causes of acute malnutrition.
Diseases – Certain illnesses and infections, such as tuberculosis, measles, and diarrhoea are directly linked to acute malnutrition. A combination of disease and malnutrition weakens the metabolism creating a vicious cycle of infection and undernourishment, leading to vulnerability to illness.
seasonal migration and climate change – the number of natural disasters — droughts, cyclones, floods, etc. — linked to climate change has increased substantially. The effects of climate change are often dramatic, devastating areas which are already vulnerable. Infrastructure is damaged or destroyed; diseases spread quickly; people can no longer grow crops or raise livestock.
How can we stop hunger ?
Feed the need – create a team or join any group of people/ organisation those contribute towards in this aspect. 
Community fridge or magic fridge – which provide the food to those who need … anyone can install fridge in their society at the entrance of resident and others can contribute by storing left over food instead of wasting. 
Roti bank – there are many initiative… by group of people who help feeding 1000 people on daily basis. Contact them and help to reach their aim. 
No food wastage- try not to waste food on daily basis and if it does , think and make ways and reach to those who need that food it may be your house helper or your watchman .. anyone around. 
Help each other to create a world without hunger and offer a better future to people worldwide.
We can only if we really want to!
Poverty is a great enemy to human happiness
DISCLAIMER: This is my personal blog, the views and opinions expressed here represent my own and not those of people or organization that I may or may not be related with unless stated explicitly. The content is copyrighted solely to the caretaker of this website. Do not copy.