I start my day with my lists, my plans and goals but by end of the day my list is even get longer. Do you feel the same? I get it. Being productive at work can be a very difficult task. Managing time in a way that is good for your productivity is a key. It can be sometimes hard to know from where to start. The title itself says 7 Hacks To Boost Productivity. Including few tips on how to work smarter! Read till the end and don't forget to share and comment. Your lovely comments makes me happy happier and happiest.
Set Your Intention
According to science Multitasking is not humanly possible. People are fooling themselves if they say they can manage phone calls, eating lunch and handling work presentations and much more. It simply will not work if you can not focus one task at a time. Stop multitasking and set your intention will boost your productivity faster. Being not clear on what to focus on and how long will decrease productivity and hence you can not complete your task on time. Focus on one task for specific amount of time will make you ending your work on time.
Meditate And Calm Your Mind
Meditation helps you to calm your mind and also helps to build focus. Meditation is quite popular now and there is lot more free guidance and information on how to meditate effectively. Meditation is simple and effective if done properly. So educate yourself and get started. At the end of the day I meditate for 15 minutes and trust me it works. It also improves your sleep and calms your mind.
Taking Breaks
We all are in long long working hours and we think being working for longer hours makes more work done. Studies have shown that taking breaks in between the work helps in concentration and boost the mood. Try experimenting with break frequency and duration while working. The option that works best I found is to either work for 25 mins and take 5 mins break or work for 50  mins with a 10 min work. Tell me in the comments which you will prefer? look what works better for you and then stay with it. You can also change with time. Tip- Use timer for break times.
Set Small Goals
Seeing a handful of big projects can be stressful for anyone. But what if you break them in smaller tasks? You will feel more controlled and more productive. Setting small goals is the most important among the  Hacks To Boost Productivity. Setting smaller goals will help you on track in day to day and making your bigger projects less daunting. In addition to that understanding when and how you work best is the key to getting those big projects on time.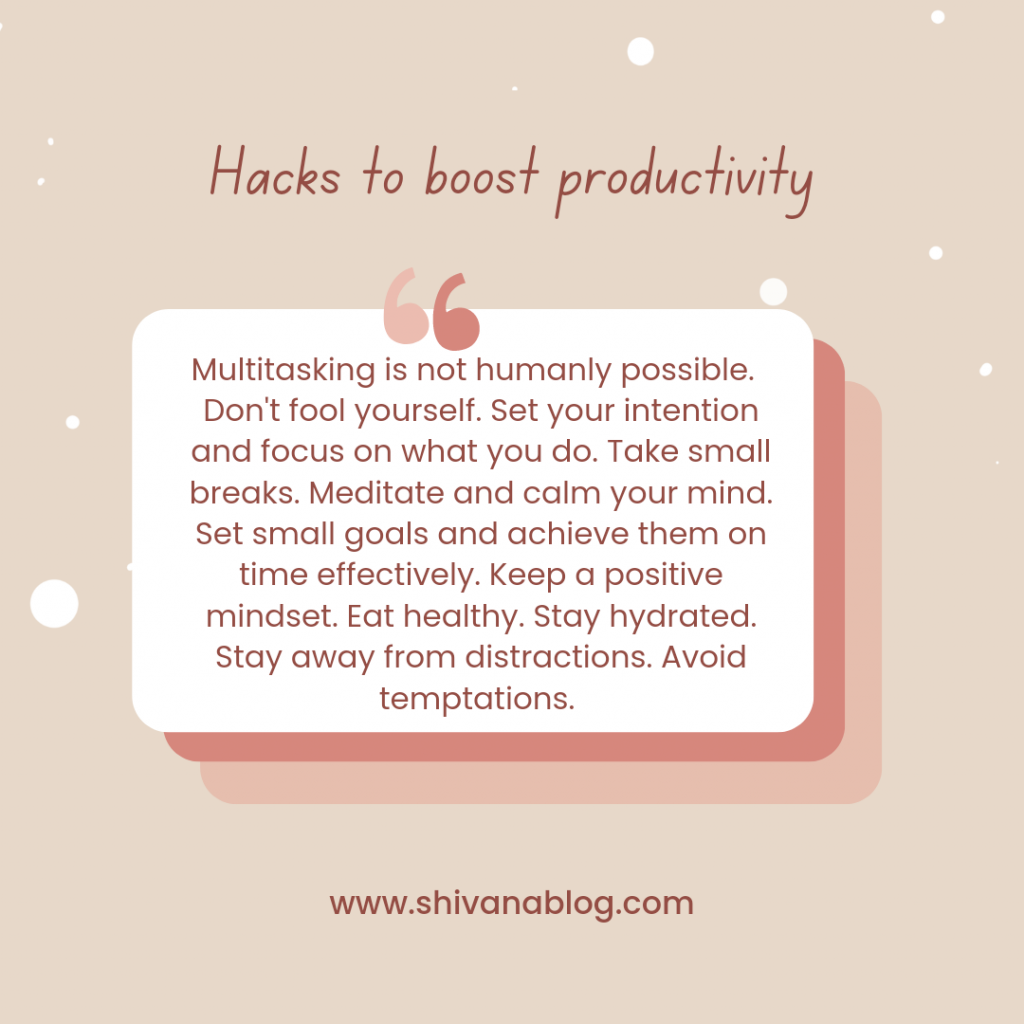 Stay Hydrated And Eat Properly 
Most of us don't even realize that we are partially dehydrated most of the time. This can impair our ability to focus and make good decisions. The solution to the problem is very simple you've got to drink plenty of water. A big glass of water every couple of hours would make a difference in your productivity and concentration.  Read- Summer Self-Care Tips 
Keep A Positive Mindset 
Developing a positive outlook on life will make you more productive. When you adapt a positive mindset, you accomplish more each day. Having a good mindset everyday is also a difficult task and many of us find it difficult. Read – How to keep your thoughts positive?
Your mindset affects your productivity
Avoid Temptation 
To begin with read about  DISTRACTIONS and how to get free with them. Distractions is a difficult habit to overcome. It feels good to go from bored to amused when we check an email or reading a text. It is very important that one should avoid these temptations or other than this during your breaks, too. Learn to say no to urges. I always keep my phone away because I feel distracted very easily while working and getting into temporary entertaining stuff. Sometimes I put my phone on silent for some time so that I can complete my task more productively and efficiently.
Concluding-  Hacks To Boost Productivity
Remember that not every day is as productive as you think but there is nothing wrong in trying to do so. Not everyday will be perfectly productive, so don't push yourself beyond your limits. Sometimes it is okay to go  but not every time.  Instead refocus, regenerate your energy and implement these tips to work smarter and productively. To work smarter – find the sweet spot for yourself- your place it can be inside or outside the office and get your work done happily. Try to make your stuff more according to you, of your choices like your notepad, your other office stationary. Make your space more like you. I think it will help. Now excuse me , I've to take break now since I'm editing this for straight 2 Hours. You should take one too. See you soon. You can do better !
Image Credit- https://www.canva.com/
Recent Blog- Health Benefits Of Black Coffee
Also Read- 5 Habits That Can Fix Most Of Your Problems
DISCLAIMER: This is my personal blog. The views and opinions expressed here represent of my own based on educational research. Also thoughts and opinions change from time to time as I come to learn more and develop my understanding about the things and issues that I am blogging about.