Summer, a season of wellness and extra care. This season can be a great season for self-care. In the beginning I was not into much self-care routine but later I incorporated this into daily life. It should be incorporated so that you should know it's amazing health benefits and it lasts longer. Practicing self-care routine consistently reflect in our lives. So here I am with this Summer Self-Care Tips >> Informative-helpful blog. It will help you to slow down and knowing how to make space for yourself.
What is practicing Self-Care means?
It is not completely about taking out time for mental health, emotional, spiritual and well being. In addition to that fast-paced, technological society, slowing down in daily life can be a challenge.
Make a Schedule
Morning- Start your day with meditation, reading and prayer. It is a great time for reflection. Try not to be in hurry, slow down and take care of yourself.
Weekly- Take one day week off for your spiritual well being. Resting can helps you restore and regeneration. Regenerate your mind, body and soul.
Monthly- Take one weekend off a month, a staycation or a mini vacation. I'm sure this will be a very good practice for self-care.
Spend time outdoors
Summer is a good time to rest and get refreshment. But I know this will not sound same for everyone of us. For some It can be an easy task and but for some It is challenging. Taking out some time requires scheduling time, a list of doing things because resting can be very helpful and refreshing. Consider taking time with no work, no meetings, no house chores only you. You can feel rejuvenated simply by walking around in a serene environment and quieting your mind and body.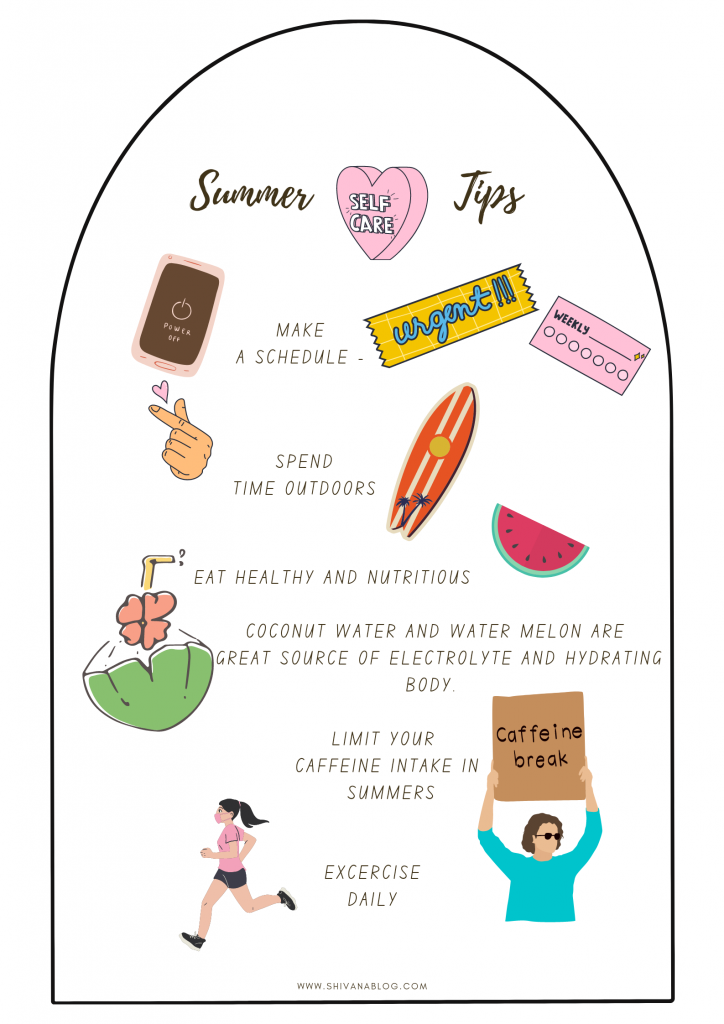 Additional Summer Self-Care Tips >> few drinks
Starting with coconut water. Coconut water and watermelon are great source of water and good at hydrating the body. They are rich in Electrolytes that can reduce stress, lower muscle tension, improve heart health and lowers high blood pressure.
Detox water- The easy-to-make minty water good for your body by helping with belly bloating, flushes out toxins and great at improving digestion of fats. This majorly works well if you are trying for healthy weight loss. You can make this water simply adding ginger, mint leaves, lemon slices, cucumber slices and done. With nutritious diet and detox water, one can see body weight reduction with clarity. This detox water removes toxins thus helps to clean body from inside. Eventually you will feel fresh and energetic.
Eat well and take a good enough sleep- Sleep is a key to Self-care. Incorporate nutritious diet because what we put into our bodies will reflect into our lives.
Limit your caffeine intake, sugar and alcohol in summers.
Stay away from refined foods like chips and cookies.
Exercise daily no matter what you do.
Concluding >> Summer Self-Care Tips
These tips are not exhaustive. Can be included with ease. Always remember that the way you take care of emotional, physical, mental and spiritual well being the best version of yourself will emerge accordingly. Thanks for stopping by. You can do better!
Recommend Reading- Mind and Soul Healing >> Reparent yourself (2)
Recent Blog- Tricks for Mental Freedom/ Health
Image Credit- https://www.canva.com/
DISCLAIMER: This is my personal blog. The views and opinions expressed here represent of my own based on educational research. Also thoughts and opinions change from time to time as I come to learn more and develop my understanding about the things and issues that I am blogging about.