In our lives there are situations there are conditions in which we sometime feel very low, we think nobody is with us in our Dark times in our hard times and we think ultimately that nobody is with us, everyone is against. Similarly, we think that the whole surrounding or people around us are against of our decisions ,our choices and goals. I think this is all in our mind that everyone in entire world is against of our decisions and our choices. We consider this situation as me vs people or the universe. In this blog I'm gonna discuss how to handle your thoughts and emotions on daily basis. Read the blog till the end.
When you feel low, you behave accordingly. Eventually, you stop doing certain activities but you also carry few daily activities like eating food cleaning your surroundings making your bed. You breathe you make sure that your surroundings are favorable to you. Right? I do this when I feel low. You continuously interact with people, with your things with the universe. But in your mind you think everything around you is unfavorable. You feel crushed from inside because of your thoughts in your mind. These thoughts, these lil things will drag you down. Will crush you from inside.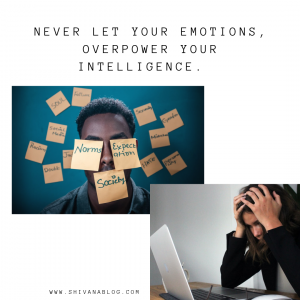 Your thoughts and emotions are not fixed
Your thoughts and your actions are not fixed they can be changed. Some situations are temporarily to you so, don't get depress my friend. There're situation like getting fired from job, failing in exams or unavailable to find a job may be getting cheated in a relationship. These all are nothing but the small things in your life. These things can't define your potential and your abilities. what people in your society thinks of you is none of your business.
People will judge you according to their mindset. You can't make everyone happy around you. Isn't it? My mom says we all came on earth with nothing, empty hands and we all have to go back with same. What to worry about then? We all die with nothing. All you've to do is to change your psychological condition. You don't have to carry a luggage full of worries on your head. you don't have to worry about society, norms and expectations from people around you all the time.
Worry less, Live more!
In other words, We should learn how to handle our thoughts and emotions very soon. It will help everyone of us in our lives in many situations I guess. Don't take yourself too seriously. I'm also working on this. This will come thru practice and practice. This is the major reason behind all those circumstances. This is the place where we live ; is our place. You can create hell out of it or heaven, the choice is really yours.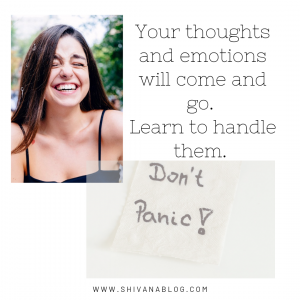 Consider this as individual task
There is nothing a better place than this. Secondly, We all have the ability to make our entire place surrounding favorable only if we want it to. No body is going to do it for you. Some might help you in the process but consider this as individual task. Let me tell you one more thing that – we all justify ourselves. There is no need to justify all the time. We all need to learn this soonest in our lives so that we can live our life sensibly. We should all learn to handle our moods our thoughts and emotions at our earliest. There's no fixed timings for all of this.
There are lot of other things in our life to experience to explore to live. Right? We humans have the ability to make memories like no other creatures on this planet. We have the ability to create vivid memories. Then what's the point of suffering? What's the point of creating a bad memory? We all are suffering our own intelligence. We are not supposed to do this. Why to make our imagination suffer, no point to do that. We humans are very complex, why to make more n more. At last, try to make things simple as much as you can. I think I've conveyed what I wanted to. Let me know in the comments your thoughts and opinions. And if you liked this don't forget to share. Will come soon with lot of other stuff till then think about it and remember that – you can do better!
Read: What are Antioxidants and how they are important for your body? / Life changing advice 2
DISCLAIMER: This is my personal blog. The views and opinions expressed here represent of my own. The content is copyright solely to the caretaker of this website. Do not copy. Also thoughts and opinions change from time to time as I come to learn more and develop my understanding about the things and issues that I am blogging about.