City of Art & Spirituality
Banaras-Varanasi-Kashi. A city older than the tradition, oldest continually inhabited place in the entire world. It has its unending spiritual grace, the river ganga gives the city its meaning, inspiration for many and fountain of life. This city tells more about reality and illuminates truth- Life and death. It does not brings new vision but enable one to see what is there already. Banaras is located in the southern area of Uttar Pradesh, fully connected with rail, air and road transport. Also well connected with the other major cities of India. The best time to visit this city is during winter season in November to February, so that one can explore every single part- Temples, Ghats and sculptures. City exhibits the combination of art, spirituality and its famous Ghats. Banaras is one of the famous sacred places for Hindus. This place is also famous for perfumes, its famous banarasi silk ( almost every Indian women Loves to wear Banarasi sarees) and authentic food items including its famous banarasi paan. Taking a boat ride and watching a sunset in the holy river ganga is more peaceful and soothing. Visit once, You'll not regret coming again.
My first visit to Banaras
This is my first travel blog of recent trip to Varanasi, Banaras or say kashi. You can call it by any name. This was my first visit , was curious to know more about the city. My deep rooted connection with lord Shiva brings me to Banaras. I wanted to visit the famous Kashi vishwanath temple and jyotirlinga. This was my unplanned trip like I do always. I randomly booked my train tickets and accommodation as well, since I was craving hard to travel somewhere nearby. So, me and my sister decided to visit Banaras. I think this is a divine call for being a Hindu.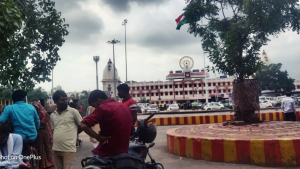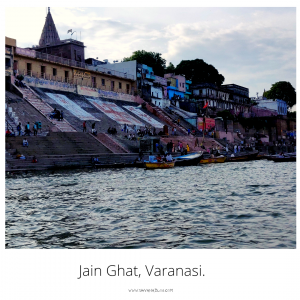 Since, I love to travel and I always get excited for my train trips, I started packing my stuff a day before the day I was supposed to leave for trip. We got ready in the morning, booked our cab and we left for railway station. That environment of railway station makes me very happy, we walked to platform, it was a hurry walk! Soon the train arrived. We reached Banaras and we were excited for our hotel room as well. A nostalgic call I must say. We all love hotel rooms for some reasons. Our hotel was beyond our expectations and there will be a separate blog on our hotel stay. Soon we arrived at our hotel, we got freshen up and we left to ganga – Assi ghat.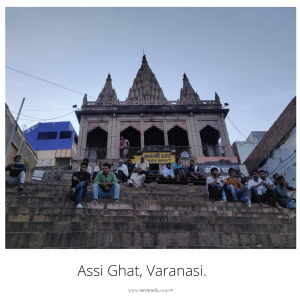 Old charm of the city
There was an old charm- boats, painted with faces and advertisements, the chai wala serving chai (Tea) in kulhads ( clay cups), mithai walas ( sweet vendors). First I saw those narrow lanes of Banaras that still show the living culture, the history, presence of god in many ways. I felt blessed during the whole trip. Secondly, I saw many visitors from southern part of India like from Kerala or may be Hyderabad. This is pretty much a global place. People visit here from all over the world. We were waiting for the evening aarti, but due to covid guidelines was unable to do so. Every evening devotees stand near the ghats to pray ganga maiya. They pray with ganga aarti to maa ganga and thank her for nurturing them, cleansing them with her purifying water. So I did the same as taught. I can't express that feeling of being blessed after touching the feet of maa Ganga.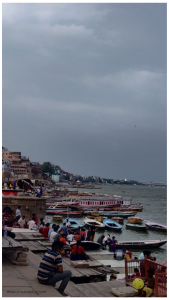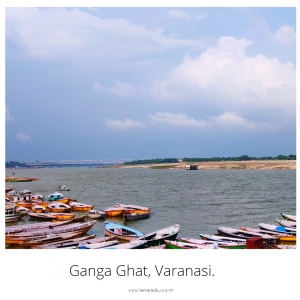 Ganga Aarti, Banaras
Over the years, The ganga aarti become the must see experience in Banaras. In my view, these expectations of must see thing made me visit ganga ghat again on second day of our trip. There were young pandits wearing dhoti and kurta and stoles across the shoulders – all of them were coordinated. There hands move in synchronised manner. They were all conscious because many eyes were on them. It is amusing to watch their expressions while performing the aarti. But I felt blessed after the aarti of maa ganga. Ganga aarti is also performed at Rishikesh and Haridwar. I've been to rishikesh many times and that place has different fan base. It is only at few places where river Ganga is worshipped. River ganga flows from Himalayas to Bay of Bengal. But in Banaras it flows northwards direction. It is believed that river ganga is turning back to have one last look at her homeland. We Indians pray to River ganga in our minds on daily basis in our own way.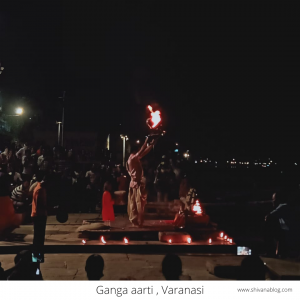 To be continued . . in next blog!
Recommend reading- Banaras city- Shri Vishwanath Mandir
DISCLAIMER: This is my personal blog. The views and opinions expressed here represent of my own. The content is copyright solely to the caretaker of this website. Do not copy. Also thoughts and opinions change from time to time as I come to learn more and develop my understanding about the things and issues that I am blogging about.