As we all know that aging is the part of life that can't be avoided. However with certain changes in diet and food items you eat can help to age better from inside and outside. So, here are top 10 Anti aging food items that can help you look younger and healthy.
Water –
As our body is majority made up of water, up to 60 to 70% according to some recent research it has been found that drinking enough water daily is a must to do thing which help to boost all bodily functions. Body functions include digestion, blood circulation, maintaining muscles, bones and skin. There are symptoms which indicate your body is lacking required amount of water or it is dehydrated.
Dryness in mouth eyes and skin
Feeling tired and lethargic
Dry hair and bad body odor
Dark yellow urine(if not on medication)
Fatigue and joint pain
Poor digestive system and frequent constipation
Poor immune system.
Water is not only required for basic survival but it is also important for good skin, hair, bones and complete body functioning. If you want to look young then start drinking enough water because water is considered as number one anti aging food item or a component.
Spinach as Anti-Aging food –
As you all know the other health benefits of spinach, Since it is very common in our meal. let me tell you that spinach is one among the top anti aging foods to consume, high in vitamins and magnesium that support your immune system from inside,. Simultaneously it is also good for your skin, bone and hairs. I must say spinach is a superfood and one should consume a good portion of spinach everyday.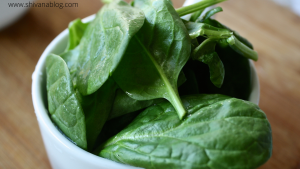 Avocado-
In my recent blog post on health and nutrition, I have discuss some amazing nutritional benefits of avocado, it is incredibly a nutritious food which contains high amount of potassium as compared to bananas. Avocados are also rich in fiber and have an amazing nutritional properties, which it is good for your skin and help you achieve your skin goals. For more health benefits of avocado check the link below.
Read for more. Nutritional benefits of Avocado
Berries ( blueberries) –
Loaded with antioxidant, high in fiber, berries are good for your skin. These are one among the healthiest food. Delicious and will gain you with number of health benefits. I've discussed about nutritional benefits of berries in my health and nutrition blog. Check the link below.
Read for more. What are Antioxidants and how they are important for your body?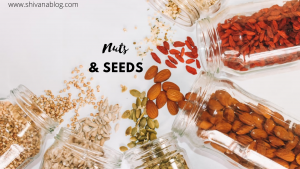 Nuts & seeds –
Almonds, walnuts and hazelnuts, consuming first thing in the morning will benefit your body with fiber, vitamins and minerals. Nuts are also good source of protein. Hand full of nuts can be very beneficial for your skin as well. Studies have shown that consuming nuts and seeds daily can prevent you from the risk of heart disease and diabetes.
Papaya-
I hate eating papaya initially, but after eating for a month I saw some good results on my skin and in my digestive system. Yes, papaya is rich in vitamins and minerals. Plays a vital role in fighting inflammation. It also improves digestion which ultimately lead to have healthy looking skin. It is also good source of antioxidants.
Read for more. Facts about chia seeds
Broccoli-
Another super food after spinach for me. Being low in calories, high in fiber, antioxidants, broccoli support many aspects of human health. It is rich in vitamins, minerals and antioxidants. It is one of cruciferous vegetables that prevent type of cell damage which causes cancer. Moreover it is also rich in Vitamin C and helps the body system to produce enough collagen. Collagen is main support system for body cells.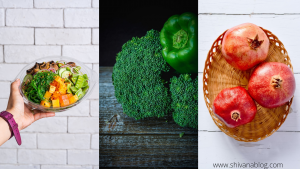 Bell Pepper –
Bell peppers are low in calories and are excellent source of Vitamin A , C , folic acid, potassium and lots of fiber. Since bell peppers are rich in vitamin c , this food item is considered as anti-aging food. So including this in your diet will boost your skin health.
Pomegranate seeds as Anti-Aging food –
These are packed with antioxidant and anti-inflammatory properties. It can prevent cell damage. Pomegranate seeds are also rich in fiber, Vitamin C and Vitamin K. Pomegranate can be your skin's best friend if you include this in your diet. It has many anti aging properties.
Sweet potatoes ( Super Anti-Aging food)-
Sweet potato promote gut health. This also enhance brain health my friend. Also support your immune system. Sweet potatoes has some surprising health benefits. Moreover, it is also good for weight loss. It helps to impart natural glow on your skin. Due to rich in vitamin c it boost collagen production in your body which tightens your skin. Consuming this daily can help you maintain body's need of potassium which helps in maintaining sodium level and prevent blood thickening in heart.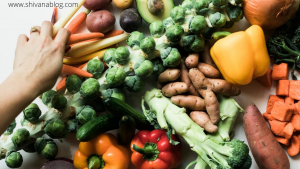 Recent blog link- Trip to Banaras – An old charm / How to handle your thoughts and emotions
Concluding
This is all for this blog. Make sure you are consuming any of this food items individually or combination of any of these in your diet plans. If you're looking for any other diet plans please include more fruit and vegetables with deep nutritional value and rich in color. Fuel your body with healthy food and slow down the signs of aging. Glow from inside. Don't forget to share your thoughts in the comment section. See you there. You can do better!
Pic source- unsplash.com
DISCLAIMER: This is my personal blog. The views and opinions expressed here represent of my own. The content is copyright solely to the caretaker of this website. Do not copy. Also thoughts and opinions change from time to time as I come to learn more and develop my understanding about the things and issues that I am blogging about.