Nutritional value and benefits of chia seeds
In this blog I'm sharing some amazing facts about chia seeds along with that its nutritional value and health benefits. Read the blog till the end sharing some related recipes as well. If you like this blog do share with your family and friends. Chia seeds- Born in mexico, later in central and south america. These are small in size, brown and black in colour. These are hydrophilic in nature that means when soaked in water these seeds absorb up to 12 times their weight. And that is the reason that one can consume this seeds simply with water.
Chia seeds are comprises of carbs, fat, proteins, vitamins and enormous amount of minerals in it. These are excellent source of omega-3 fatty acids (Good cholesterol) beneficial for heart. It have the shelf life of about 2-4 years, if stored with instructions and best by date. These are easy to digest because of fibre in it and promote the feeling of fullness. I personally love to consume chia seeds by soaking them in water bottle and sometimes in my smoothie bowls / fruit bowls as well.
Are chia seeds really good for you?
As stated above chia seeds have the property of absorbing water, they can be consumed as good source of nutrition for potential health. But eating too many cause some side effects. Since they have fibre in it, excess of fibre can cause abdominal pain, constipation, bloating and gas. Also chia seeds may cause risk of choking if not consumed carefully. If taking with water, better be careful. It can cause blockage in throat. Always make sure to soak them in water for 10 to 15 minutes.
Chia seeds contain good amount of Alpha linolenic acid (ALA)- a type of omega-3 fatty acids and it is good for health. A large observational study showed that ALA intake can cause risk of advanced prostate cancer in men. many of you might be allergic to chia seeds and may have the symptoms including gastrointestinal itching, swelling after eating them. Consult your doctor immediately. Watch your daily intake of nutrition according to your blood levels, people on medications for blood pressure.
Facts about Chia seeds and women health
These tiny seeds are full of antioxidants- which is good for better skin and prevent from skin damage. It prolong skin aging. Secondly, it can increase your collagen levels, again beneficial for glowy skin. All the women out there start including this in your diet along with that one can grind these seeds and can use them as a face mask as well. But again I would say be careful while consuming them. The omega-3 fatty acids component in chia seeds have the property of killing cancer cells. Hence it help to fight breast and cervical cancer as well.
Recipe with chia seeds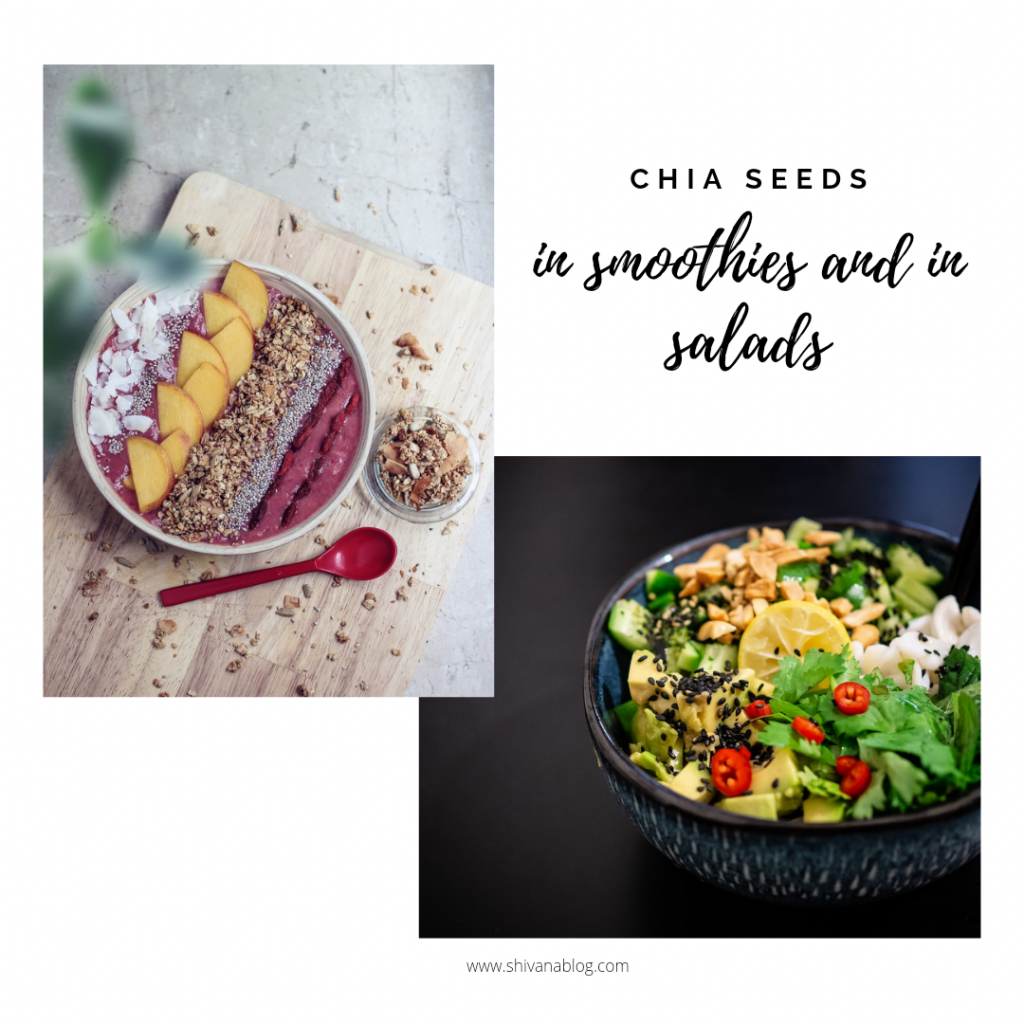 Recent Article- Nutritional benefits of Avocado
DISCLAIMER: This is my personal blog. The views and opinions expressed here represent of my own. Do not copy. Also thoughts and opinions change from time to time as I come to learn and develop my knowledge more.