Are you aware of Benefits of drinking fresh fruit and vegetable juice? I personally love drinking fresh fruit and vegetable juice. They have amazing health benefits. They are rich in minerals, vitamins, carbohydrates and basic fatty acids, proteins and much more. All of these factors are crucial to keeping up good health. After making fresh juices as part of my daily diet, I discovered that feeling of great strength, glittering complexion and nourished Immune system in my body. Along with great strength, fresh juices also makes bone stronger and reduces the risk of diseases. Although eating fruits and vegetables in their natural raw state does provide us with significant sum of vitamins and minerals. So in this blog I'm sharing few fresh fruit and vegetable juices recipes for you all.
When you get the maximum benefits of drinking fresh fruit and vegetable juice ?
We only get the maximum benefits from them when they are juiced. Much of their goodness is bolted in the fibre which is expelled from the body. When we juice the fruits and vegetables, their goodness is released from the fibre and we are ready to drink their highly concentrated supplements which are at that point able to enter in our circulatory system rapidly. Fibre is essential to health. So be sure to continue eating fruits and vegetables in their natural form along with legumes, and whole grains with fresh juices to gain maximum amount of nutritional value from what you eat.
Very few people eat raw fruits and vegetables. Juicing provides a quick and easy way to increase your consumption of these foods and is recommended in addition to a high fibre diet.
There are fresh fruit and vegetable juices for most of the diseases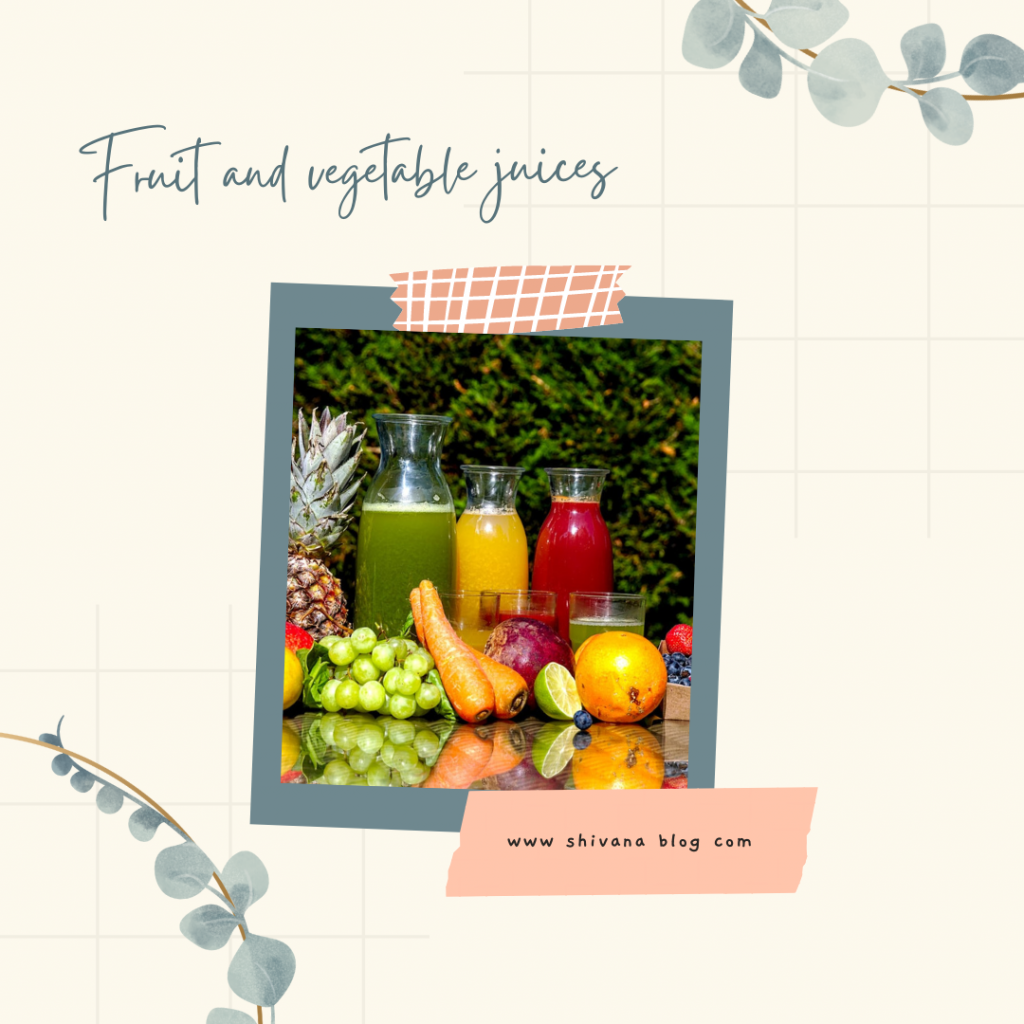 Is eating raw fruit and vegetable is more healthier than juicing ?
Everyone has their own story to say about, but I recommend eating and juicing both. You can choose accordingly. If you love eating them it's good for you but if you don't then go for juicing process. Juicing extract all the benefits from the fruit and vegetable but don't skip the fibre part. Many fruit and vegetable items can not be juiced to full extent. For that I would like to say include them in another manner in your diet for health benefits. Juicing is different from blending so I suggest use blenders instead of juicer. Blender will make it easy for you. It blend all the edible parts of fruits and vegetables. Blender produces a drink for you comprises of all the benefits, more healthy and nutritious. If you try juicing avoid making stocks in refrigerator. Make only as much as you can drink it at once. As harmful bacteria can grow quickly in fresh made juice.
Concluding
Avoid buying commercial produced tetra packs and still if you do choose pasteurized one. I lovemaking smoothies and juices because of their health benefits. But I like eating them as well. Green leafy vegetables are my favorite in winters. They are filling and nutritious at the same time. This is all for this blog, let me know what you like to do eating fruits and vegetables in their natural form or juicing them? Do share this blog with your friends and family. Leave your thoughts in the comments. Till then take care, Be kind. You Can Do Better!
Also read- 7 Hot Drinks for winter
Recent Blog- Social Anxiety or phobia
Related blog- How to Improve your digestion >> Tips & Tricks
DISCLAIMER: This is my personal blog. The views and opinions expressed here represent of my own based on educational research. Also thoughts and opinions change from time to time as I come to learn more and develop my understanding about the things and issues that I am blogging about.