At this point of time, we all are aware of working from home and that neck pain & back ache that can come with it. The real culprit behind those pain? Poor posture. If you're too familiar with those pains then you are not alone in this as per the recent research done by medical experts. Even better ? Here are Benefits of Good Posture ! Luckily, practicing good posture, keeping your head held high and stacking your spine can help you avoid some sort of discomfort. Recently I got severe back ache as I work straight for 8-9 hours from home. Sometimes more. When I spoke to my doctor she suggest some good posture to overcome those pains and discomfort.
Further she added that when your posture is in alignment, your muscles can move like they were meant to be. This allows us to go about the day with more ease and comfort. Good Posture is the foundation to build muscle strength, mobility and much more.
Benefits of Good Posture
Prevents chronic pain and helps muscle function well – If neck pains and back pains are constant companion these days that's because of slumping at your desk for longer hours. That's because when you hunch, your shoulder muscles pulled into abnormal positions. The muscles on the back side of our body get weaken and get stretched out. And the muscles in the front side like your chest grow unnaturally short and tight staying frozen in sitting position. The best way to combat those pains is to sit properly and straight. In that way your muscles are in the optimum position to support your spine and head.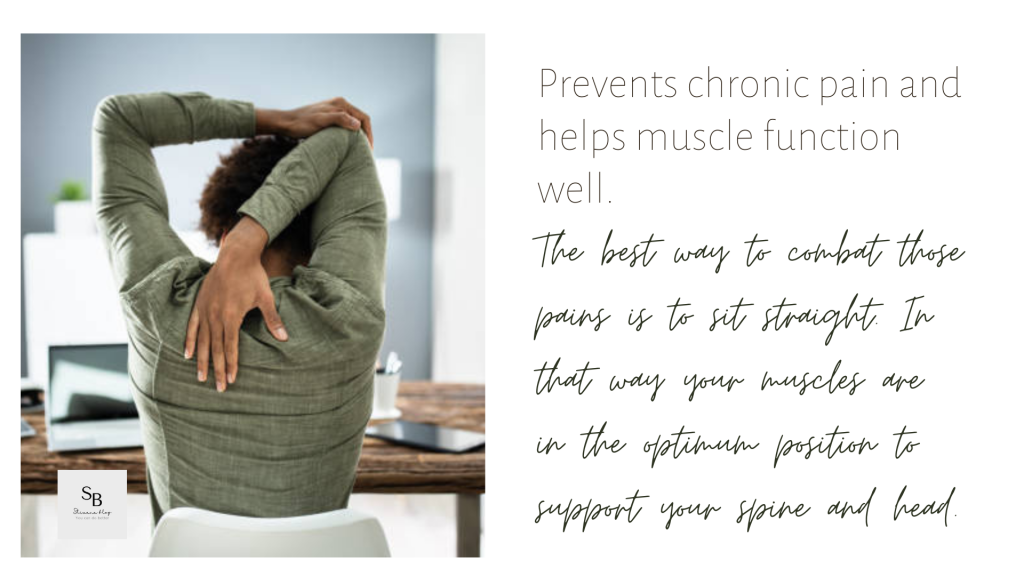 Improves circulation and increases lung capacity – Having a good circulation is important and it is necessary to ensure that your body gets good amount of oxygen and other nutrients to function properly. By sitting up straight, Good Posture provides better circulation and nutrients to all the tissues and organs of the body. A good posture can allow your lungs to breathe easily. It also sets the stage for breathing exercises like deep breathing.
A Good Posture 
Boosts brain health and promotes organ function – Another Benefits of Good Posture-  blood flow and nutrients that come with good circulation are also great for your brain health. It can help you think more clearly, boosts your mood and support brain health with all. Our brain communicates with our organs via nervous system. Your organs functions well only if they are in good communication with your brain. Good posture allows strong and balanced communication, leading to better organ function.
Reduces joint wear & tear and prevents injury –  Back pain or neck pain is not the only discomfort one will face due to poor posture. A good posture helps to put less stress on wrist, elbow and shoulder and therefore you are less likely to hurt or getting injured. Depending on the activity, poor posture can put unnecessary force on your joints that can leads to wearing & tearing of joints. Good proper posture helps to keep your joints in alignment and minimise the risk of excess force.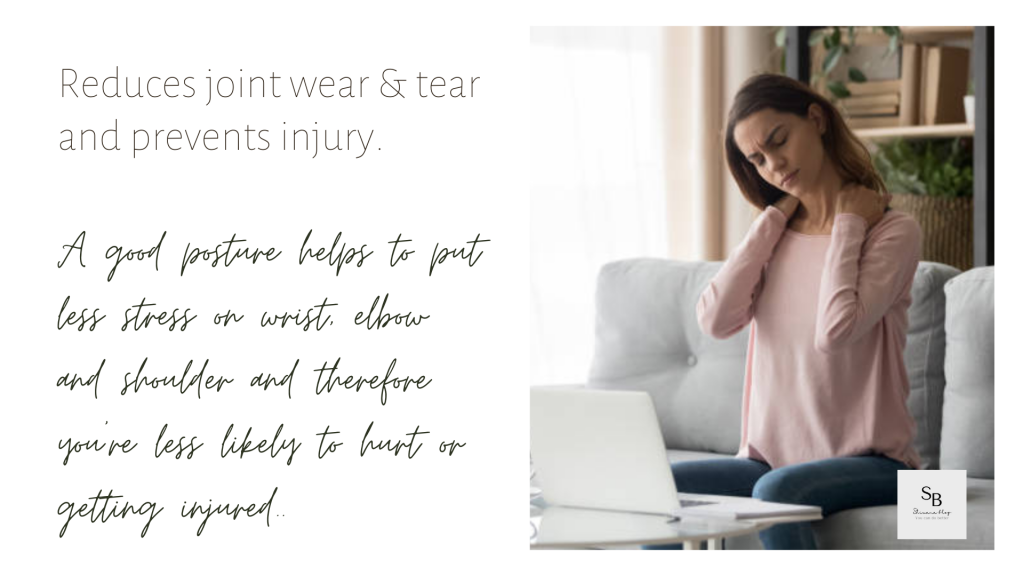 Recent blog- Health Benefits Of Ginger
Also read- Healthy foods to eat everyday
Image credit – Unsplash
DISCLAIMER: This is my personal blog. The views and opinions expressed here represent of my own based on educational research. Also thoughts and opinions change from time to time as I come to learn more and develop my understanding about the things and issues that I am blogging about.