Declutter your MIND – Important
Since it's a festive season all over the world, we do deep cleaning of our homes, preparation of festive season begins with this initial step. Decluttering stuff and minimising all the things we don't need from our space. This all makes us feel new and more productive. But not only our home needs periodic cleaning, our mind, body and soul needs the same. In this blog I'm going to discuss why detoxification of mind and soul is important? Read the blog till the end. Show some love towards the blog by sharing your thoughts in the comments that motivates me to write more for you all. Let's begin with tips and a quick discussion on how to declutter your mind.
Reboot your Brain health
There's no better time to reboot your brain system by eliminating unnecessary stuff from your mind. Emotional grudges, hurt, jealousy, feeling of hatred, revenge, anger can make our minds toxic. Holding them for long may lead to mental and psychic disorder. Just like our body has a system of flushing out unwanted food or toxic materials from our body, our minds also require a cleansing. All the negative feelings and emotions need to be thrown as well.
Cutting toxic people from your life
If you've anyone in your life that makes you feel worse being around them, there's no reason to keep them in your lives. Get rid of them asap. There's a major plus by cutting people like them from your lives, you've more time to spend time with people who make you feel amazing and joyful. Set your time to plan something good with those you love like a quick date or dinner. Chatting with a friend who genuinely cares for you can help you get rid of stress and might boost your mind and feel whole. It's never too late. Clean-up your life . Organise and prioritize your belongings first. Declutter your mind and space altogether.
Open your surroundings for New Adventure. New possibilities !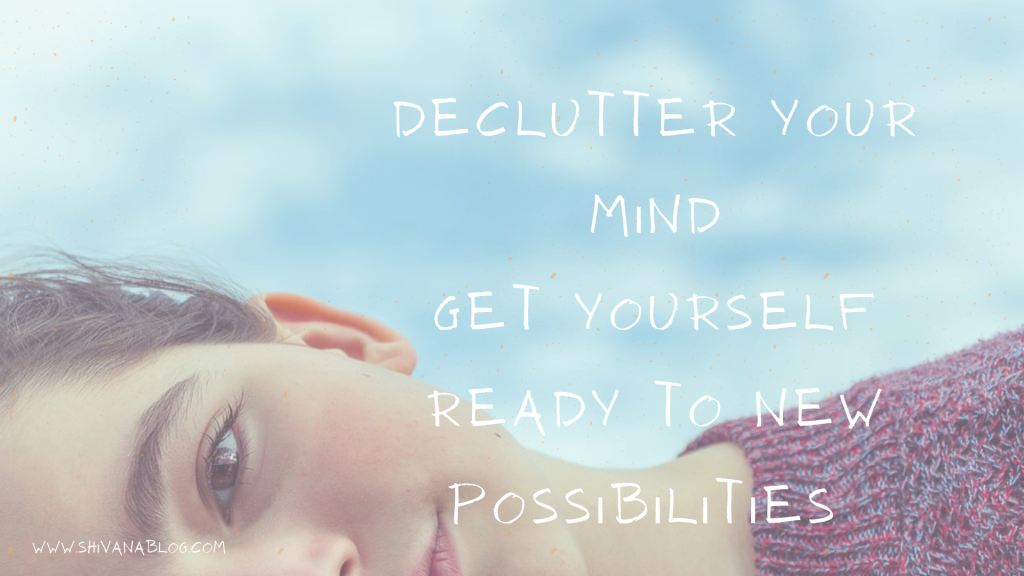 Read: Notice good things
Get rid of social media network
Decluttering your mind and your surroundings can help you feel lighter and more energized overall. The worst thing which makes you feel anxious and depressed is the SOCIAL MEDIA NETWORK. Social media is one of the biggest time wasters of the day. Endlessly scrolling through the social media content, not only takes your time away but it's also great at logged in and will not allow you to do something productive. So log off and find something good for you which makes you feel full and productive, ideal. Instead of scrolling through social media find something Creative activities for you which you can do with your hands and mind. Spend your brain energy wisely. This will let you get some stress relief and positive feelings. Social bullying
Open your heart
Write down your feelings into pieces of paper and then discard them or burn them. This activity may sound dramatic and definately this will not solve the problem but allows you to express yourself and release negative feelings for some time. Open your heart and confide to someone else. Share your feelings, you can receive support and guidance to deal with negativity. Rejuvenate your mind, body and soul together. Tips for better brain health
Watch your thoughts, your words, your actions, your character, your habits .. all together they become you.
Spirituality
Last but not the least, spiritual practice. This is my personal experience of practicing spiritual activities for so long in my life now helps me to get rid of all the toxic materials from my brain. Take some time to meditate and sometimes activity like yoga and Pranayam helps to reboot your complete body system. Find BALANCE in LIFE
Concluding
In the end all I want to say is no one require to be confined by their life history but can break free to create a life they choose. One need to learn to think and act differently. Detoxifying your mind is achievable when you set your mind, your intention to do so. Thank you for stopping by. You can do better!
Also Read: https://www.simplyfiercely.com/simple-living-tips/ Confidence and Arrogance/ Right choices
DISCLAIMER: This is my personal blog. The views and opinions expressed here represent of my own. The content is copyright solely to the caretaker of this website. Do not copy. Also thoughts and opinions change from time to time as I come to learn more and develop my understanding about the things and issues that I am blogging about.