Liver is like computer of the body. Did you know that your liver suffers for everything you eat that is unhealthy ? Liver always remembers your eating patterns. Here are Top 7 Liver Cleansing Foods that will help you detox your body internally and will boost your metabolism. It is so important not overload your liver with toxins because it is responsible for many vital functions throughout the body. This article is to remind you that be kind to your body. Below are certain list of food items which are good for your liver. Have a look.
Top 7 Liver Cleansing Foods
Liver is one of the largest organ of the body and its major function is to filter the system by converting toxins to waste products, cleansing blood and allow the passage of nutrients.
Leafy Greens. Green vegetables are high chlorophyll and soak up a lot of toxins from the blood. They are no doubt packed with vitamins, minerals and fibre. A diet rich in leafy green reduces the risk of obesity, heart diseases and high blood pressure as well. On the other hand cruciferous vegetables, are major source of glutathione which triggers cleansing enzymes to flush out all the toxins and carcinogens from the body. Adding lot of broccoli, cabbage, cauliflower to your diet will work better for your body.
Fatty Fish. If you're someone who loves eating seafood like fish ensure that you add fresh fish or any other sea food of your choice like tuna in your diet. These fatty fish consist of omega-3 fatty acids that reduces inflammation in the body. Research shown that omega-3 fatty acids prevent building up extra fat and maintain enzyme levels in the liver.
Garlic. Garlic is packed with antibacterial agents which when eaten activates liver detox enzymes. Moreover these enzymes work on eliminating toxins from the body.
Fruits & berries. Ensure that your diet includes apples, avocados , grapefruit and all citrus fruits. Citrus fruits are good for gut health and stimulate the liver. In addition to that fresh juices are also good for liver.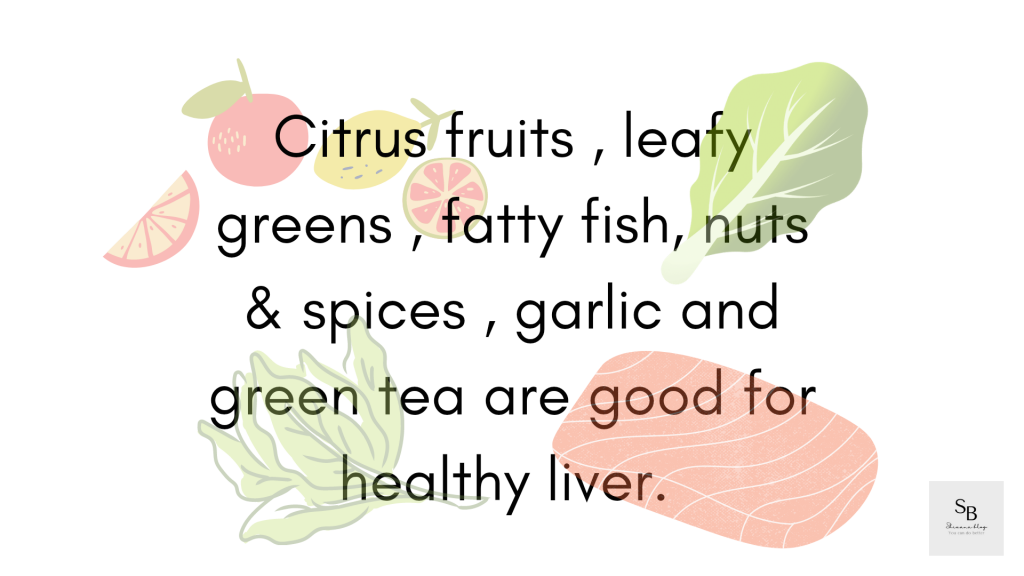 Other 3 Liver Cleansing Foods are 
Olive oil & Spices. Olive oil is now serving as good medium for cooking. It lowers fat accumulation on liver. Olive oil also provides improved insulin sensitivity and improved blood levels of liver enzymes. Spices on other hand like turmeric, is a magic spice. An active ingredient known as cur cumin, flushes out all the toxins and repairs the liver cells.
Grains. Whole grain products like oatmeal, multigrain bread, brown rice , barley and millet are very excellent source of fibre for the liver as fibre is good for your body. High in fibre these food reduces the storage of sugar in liver. These foods helps to clean the liver and boosts overall digestion.
Green Tea. Any herbal tea, ginger honey lemon tea and green tea helps to clean the body from inside and makes you feel completely fresh for the day. Green tea also boost body metabolism and improves body functioning. There are certain food items which boost metabolism.
Bottom line
Liver health is very important as it helps your body to maintain a Healthy level of blood sugar. Exercise and a well balanced diet is the best way to maintain healthy weight and lower the chances of non alcoholic fatty liver diseases. Too much refined sugar and high fructose syrup causes a fatty buildup that can leads to several other liver diseases. Some studies shown that sugar can also be damaging to the liver as alcohol even if you are not overweight. Limit your food with sugar, soda and candy. Exercise well and eat right if you want to have healthy liver. In conclusion, exercise or any other physical activity is a proven therapeutic strategy to improve fatty liver disease. You can do better !
Image credit – Canva 
DISCLAIMER: This is my personal blog. The views and opinions expressed here represent of my own based on educational research. Also thoughts and opinions change from time to time as I come to learn more and develop my understanding about the things and issues that I am blogging about.